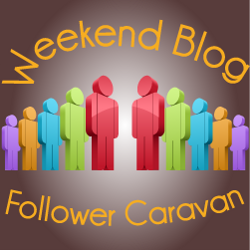 Hello dear participants of WBFC! This is my official entry for this week's task where bloggers are assigned to like blog's fan page and follow via Google Friend Connect. It's mega WBFC time now!
Here are the tasks to follow:
1. Please LIKE and FOLLOW sponsors' fan pages and blogs.
Please like with YOUR PROFILE ACCOUNT, NOT WITH YOUR FB PAGE BECAUSE IT DOESN'T COUNT. Visit Pinay Mommy Online to LIKE thru GFC.
2. Make a welcome post for other participants of WBFC # 19 to comment on. Place WBFC badge on your post. The link to your blog's fan page or LIKE widget and your GFC widget should be visible in your blog.
3. Comment on the welcome post if you have LIKED and FOLLOWED. If you are already a fan or a follower, still leave a comment to know that you have visited.
4. ONE BLOG per BLOGGER ONLY.
Weekend Blog Follower Caravan is a simple online blogger-helping-blogger weekly meme. It was designed for bloggers to help each other in terms of blog followers either through Google Friend Connect and email subscribers.